The weekend was great. I had planned on a looong brick on Saturday morning however, a couple of bike issues arose, so the workout was postponed until Sunday. I did make my way to a couple of Tri shops on Saturday though. I spent to much $, as always, but am thrilled with the 2XU
Velocity Wetsuit .


I decided to try one out and will make the purchase next week when I go back for my bike fitting. Last year at Patriots, the temps dropped enough over night to make the race wetsuit legal. Maybe that will happen again this year. I will be prepared either way, just in case :)

On Sunday I did do the long workout. The plan was a "mock" 70.3 minus the 1.2 swim. I took off on the bike and another plan was to try and fuel up (at least practice anyway) on the bike since I have trouble doing this and I know it will be crucial for the 70.3. The bike ride was great. I rode up into the mountains again. It was a great day and temps at the time were fairly low. I got a little chilly on the bike at first. I made my way up to Powderhorn Mountain again and as I started up, I went by a campsite along the river. As I approached, I saw a bear, Yes a bear..YIKES! Some campers had left their potato chip bags and things behind and the bear was just helping himself to the food. I startled him (I was startled myself) and the bear looked up at me and then he ran. Very quickly! I think the bear was more scared of me than I was of him. It really happened so fast that I had no time to really react. I was going pretty fast and he was a good 300 feet away. He turned and ran into the woods in the opposite direction. I did feel eyes on me though the whole way up Powderhorn though hehe! I am sure the bear was long gone, but you know that creepy little feeling that something is watching you? Well, I had it for sure! So, it was not more than 5 minutes after I saw Mr. Bear that I came up on a Timber Rattler. Thankfully, someone had already hit and smushed the snake. They had also removed the head and rattler. EW! I was not fortunate enough to get a pic of the bear, the action happended to quickly. But I did get a pic of the Rattler, or what was left of him. I just hope I don't come across one of these in the road ALIVE. They scare me! I did not take a pic of the full body so as not to gross you out. The head and tail were gone.The other pic is one I found on the internet to show you how scary these things look when they are alive. EW!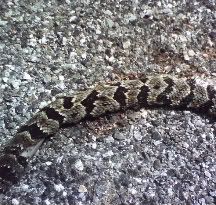 So back to the workout. I did get in 52 on the bike. I realized about mile 40 I had not been fueling. UGH! It's so hard for me to A- Eat when I am not hungry B-Eat when I am working out. I have to make myself do it. So, I started cramming fig newtons in my mouth. Still can't do the gels (exept PowerBar Power Gel) It was my first experience with newtons on the bike and I have to say, I have now found my primary fuel source hehe. I had no trouble eating them or stomaching them! YAY! Problem solved ( I think) I will keep practicing the bike picnics.

After my long ride, I hopped off and took a 5 minute transition. Grabbing some iced tea on the way hehe. So, off on the run. WOW! The first 3 miles were HARD! My legs felt a little like that video of Julie Moss trying to make her way to the finish in Kona back in the day. After mile 3 though, it started to come together. I ran faster after the 52 mile bike than I did on fesh legs this past Thursday. Hmm....weird? Anyway, I made it 10 miles and my body told me to STOP! It was so hot out by this time and I was soaked with sweat. So, I got in 62 miles total yesterday. Not to bad. I am sure that I can go the extra in 11 days to finish up at Patriots happily!

Tonight I will put in some pool time once again. Shoulder is much better now and I am hoping that it holds up for the long swims. Patriots is getting so close :)

One week after Patriots I have another Oly. YAY!

Happy Monday All~